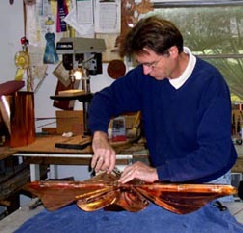 Jeff Hinkley was born in 1955 and raised in a rural area outside of St. Paul, Minnesota. As a young boy one of his favorite pastimes was to take long walks through the woods surrounding his home. On these walks he felt at peace and connected to all, and he developed a great love for the outdoors and all of nature. Since he was not brought up with any religious dogmas, nature became his spirituality and he saw that there was a unity to all life.
Jeff also liked to spend time in his father's
basement workshop where he could let his creativity unfold through woodworking projects, experimenting and inventing.
As a teenager he began to explore metaphysical concepts and was guided to transcendental meditation (TM), which later became a large part of his life.
In his high school years Jeff's favorite subject was science and in particular biology. With his love of nature and the outdooors he had plans to attend college to become a field biologist, but in the latter part of his senior year he made a radical change and went into vocational training for photography and photofinishing.
The earliest part of Jeff's career was spent working in a professional photofinishing lab. After a few years he left for an advanced course in TM. Leaving jobs to take courses became a trend until he moved to work on staff at MIU, a TM based university in Iowa. There he met a student, moved with her to Colorado, got married, moved to Florida and after a few years divorced. During these years he expressed his artistic side by working on creative projects at home, but was not finding his full expression and potential through his work.
In 1993 Jeff finally realized that he needed to make his own business and created
Thunderbird Chimes
, high quality copper wind chimes. Over the years he wanted to be more expansive with his artistic creations and in 2006 he began working on wall sculptures applying techniques and processes he had learned over the years working with copper.
Today Jeff is happily married and lives with his wife and their two cats on a horse farm in Stuart, Florida.
Artist Statement
In all life there is symmetry. Symmetry creates balance and harmony. I use this as a fundamental basis in the form and structure of my sculptures and bring a fluid gracefulness to it's symmetry with the lines within the piece merging and complementing the outer flowing curves. My objective is to create unique sculptures with aesthetic balance to the captivate the viewer's eyes and hopefully bring a sense of harmony between himself and what he is viewing.
Awards
2nd Place Sculpture
2008 "Cape Coral
Festival of the Arts"
Cape Coral, FL
2nd Place Sculpture
2007 "Art in the Park"
Plantation, FL
Award of Merit
2008 "Central Park
Art Festival"
Winter Haven, FL